Well, I had another birthday....

27 years old!

When do you get to the age when you can stop celebrating? I am feeling 30 coming right around the corner and I used to think it was

so old!

It is old. haha. Well, at least people still only think I look like I am 20, so that's one good thing, even though I used to HATE HATE looking young all growing up, now it

doesn't bug me

so much anymore. :)


So, it was a great couple days of

celebrating

. We had a party at my parents house and played

Rockband

for like 4 hours straight! SO FUN! I have seen all you guys's pictures and it looked fun, but I had no idea...

I LOVED it!

The next day my voice was gone. hehe. The Howe's had a fun party for me too. I got some money, clothes, shoes, an Ipod from Craig, a purse, digi-scrapbook stuff, and jewelry.

What more could a girl want!

Thanks everyone, we don't have a lot of money right now, and you all got me way too much. I really

appreciate

it. I loved just being able to spend time with everyone and hang out.
I HATE getting pictures taken of myself, but since it was for my birthday I figured it was ok :) I guess it will be good to look back when I am 80 and falling apart, and wonder why I was so worried about getting close to 30 because 30 is so young when you are 80!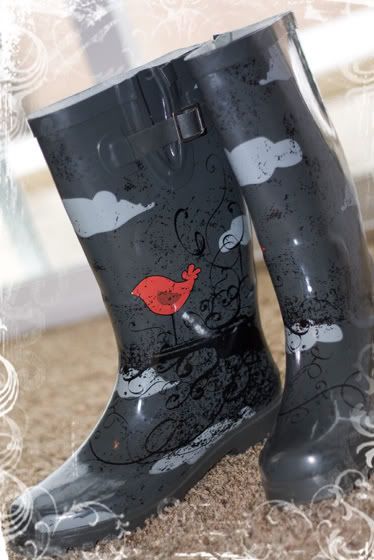 I LOVE these Rainboots....I wear them everywhere since it is so freakin' wet up here in Logan. I got them from Target.com, they have lots of different ones.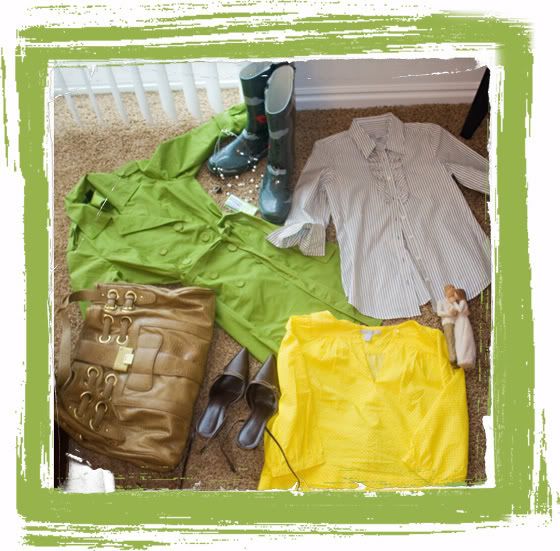 LOVE my green trench (thanks mom & dad...that's what your gift card got me) me new purse (Ebay) cute shoes (love pointy toes) , willow tree statue ( I collect them) and CLOTHES...


Oh, and since my birthday was on a Sunday,

Craig took me out

the next day to celebrate. Can I just say...

Bacon Guacamole Burger

from Training Table....YUMMMO! And then, we played

lazer tag

, which is usually SO MUCH fun for me because I always

kick everyone's butt

, but this time I didn't do so hot and so I was mad. hehe. I know I am way

too competitive

. I think it is a Stanford thing, ok...

I KNOW it is a Stanford thing.

Then he took me to the girliest movie, "Bridal Wars" which, I felt so bad the whole time cause it was

super girlie cheesy

. But, I liked it :) All in all, It was a GREAT couple of days! Thanks again everyone.

Okay, since this is the

longest

post known to man, I will do a tag I got from my sis a while back...and thought it might be kinda fun to share the

weirdness that is me

:) Well, maybe boring haha. But, it will be great in 10 years for me to look back on right.
1. What are five things you want to do before you die?
Spend a month in Europe especially Italy and take TONS of pictures, visit to NY city, be a big hot shot photographer, go to Bahamas and ride horse along the beach and lay in hammocks all day, and go on a cruise.
2. Where is your dream vacation?

Europe
3. If you were stranded on a desert island what three things would you want with you?
water purification system, fishing pool and a lighter. Just being practical. hehe. Ok- not being literal....Pictures of family, my pillow, chapstick (another thing I am addicted to)
4. What are five household items you can't live without:

Easy one: magic eraser, 409 carpet cleaner, my flat iron, computer, and sewing machine...does camera count too?
5. What is your least favorite chore?

Is there a favorite one? I really don't like to do laundry...
6. What is your favorite movie?

I love "Singing in the rain" & "7 Brides for 7 brothers" But, for a little more modern stuff, I love anything with Julia Roberts in it and LOTR.
7. What has been your favorite date with your sig. other?

Going to an outdoor concert and then walking and getting Ice cream. I also loved laying outside a watching the stars.


8. Describe yourself in four adjectives:

Quirky, perfectionist & Stubborn...well and I have to say needy too.
9. Five things you may not know about me:
I LOVE Coke Zero and I'm kinda addicted to it. I have broken my back 2 times. I usually don't get dressed or shower everyday unless I have to go somewhere. I hate to cook, and I am VERY competitive in sports and board games :)