Most of you who use Facebook know that our baby girl is here and we couldn't be more excited! She is so perfect and we love her so much. Piper Kaye Howe was born Saturday Sept. 26th @ 3:54pm. Her weight was 5 lbs 11 oz and 18 inches long...tiny little thing :)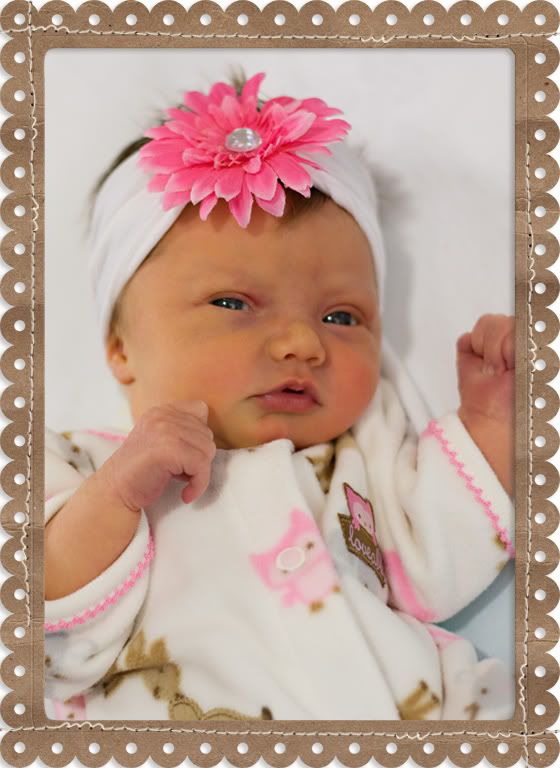 Although she didn't feel so tiny when I was pushing her out. hehe. The epidural this time wasnt very strong...so I felt most the pain. It just kinda took the edge off.
But, let me tell ya- It was really cool this time because they put up a mirror so that I could actually watch the birth. I thought it might be kinda gross, but my sister & mom totally talked me into it and I am SO glad I watched...it was so neat AND it really helped me with the pushing to actaully see what I was doing- so I got her out in 4 pushes. Anyone who is about to have a baby...DO THE MIRROR :)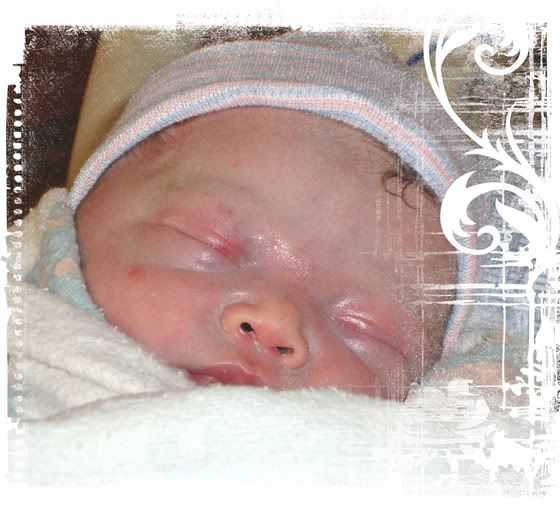 She had the cord wrapped around her neck so her face was REALLY really bruised. My Dr. said she hadn't been growing inside me for the past 2-weeks...I think it is becuase the cord was all wrapped around her neck and body. So we are VERY VERY blessed that everything is ok with her. Just some brusising. She actually weight less than Kylin and Ky was 3-weeks earlier. crazy.
Anyways, it has been a AMAZING experience to be able to hold my baby after giving birth and actually having her there with me instead of being taken to the NICU. I kept asking them if they were going to hook her up to any monitors to monitor her heartbeat and they we like "nope, you just get to keep her here in the room with you." It was SO WEIRD! Plus- after 48 hours they let us take her home. Thanks to everyone who came and visited and helped me through it all :) You know who you guys are...LOVE YOU!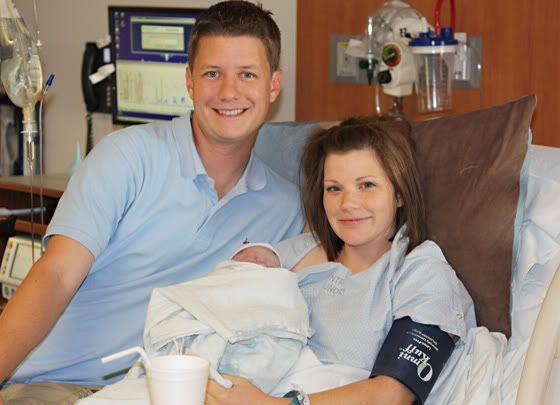 Craig helped me SO MUCH during the birthing process, which is another reason I got her out fast. He would take these big gulps of air with me and then say PUSH. It was SO so helpful.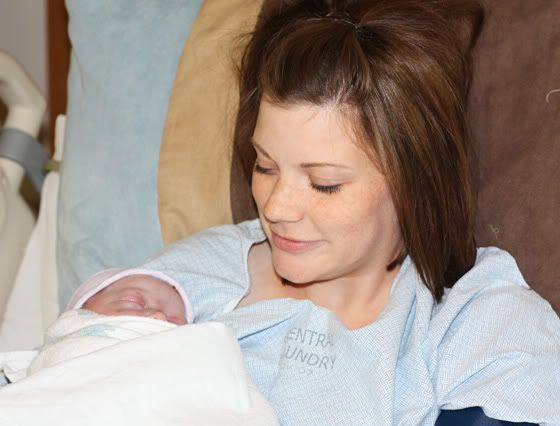 My little girl was the first thing I got to hold...Gosh I love her so much! Of course I got all teary-eyed.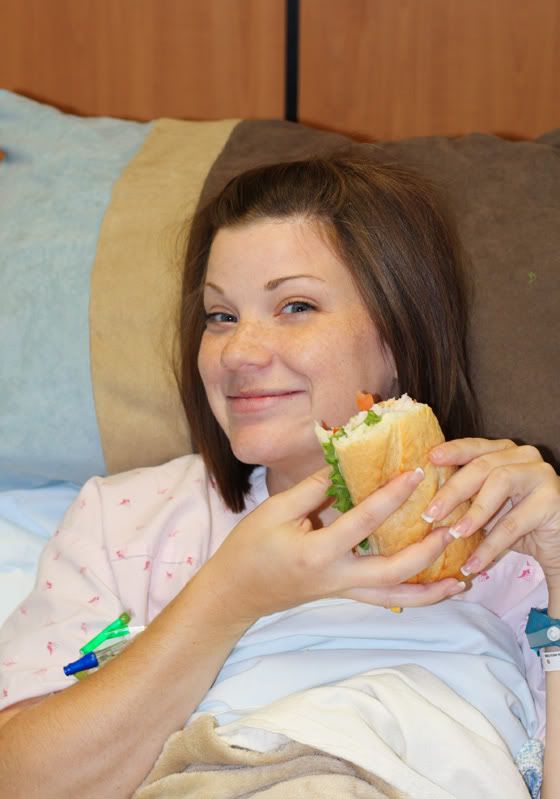 And this bad boy was the second thing I held! hehe. I was so freakin hungry. I started into labor at 11:00 and got done @4pm. Not to bad, I know, but I was starving :)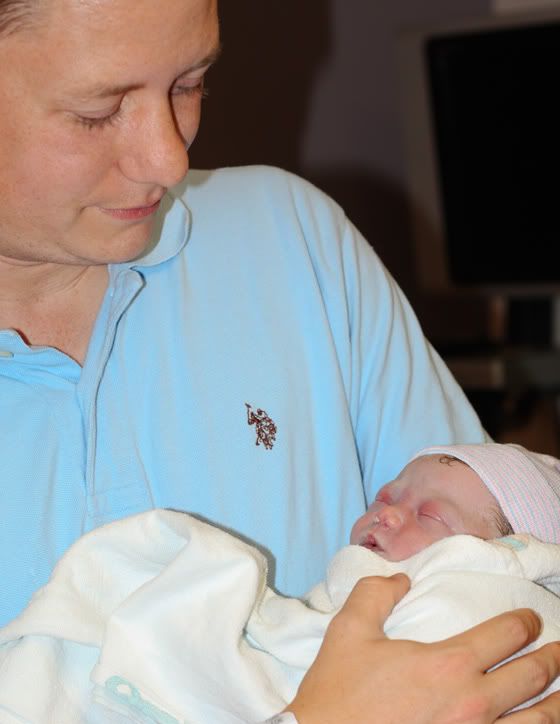 Craig is already SUCH a good daddy and a big help to me.
I know the picture is blurry, but it CRACKS ME UP! She looks so tiny in her car seat and not super happy. hehe.
--------------------------------------------------------------------
My kids LOVE HER SO MUCH! They were so excited to meet their baby sister. They couldn't come to the hospital because it is level 2 lock down because of the flu epidemic. No one under 15 allowed.
Look at the looks on their faces...they are so excited!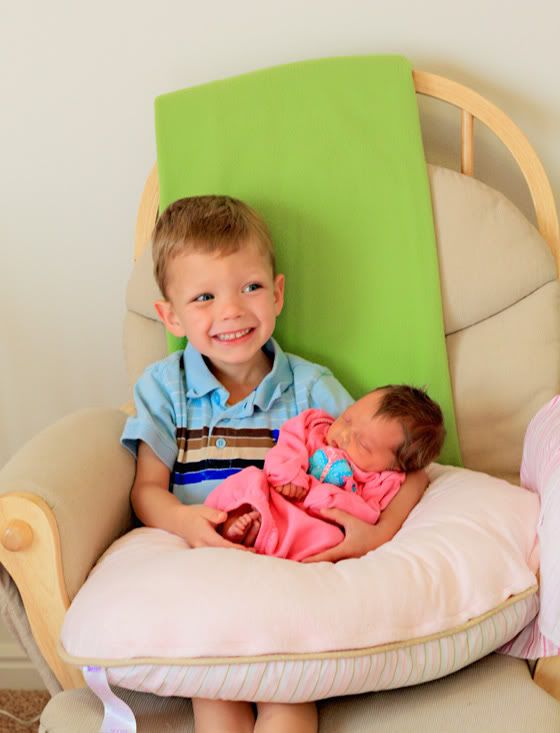 BUT Let me tell ya...HAVING 3 KIDS IS REALLY HARD! I have cried a lot this week because I am just so overwhelmed. I am so thankful my mom came and helped me for a few days. As soon as she left I cried cause I just thought to myself "I CAN'T DO THIS!" I spend most the day and night feeding Piper (who breast feeds pretty darn good I think...she just takes forever) She is my first kid who actually caught onto nursing-so this a new experience for me too. But- it is hard cause I want to still spend time with my other kids and want them to feel special. Plus- I am exhausted and have a hard time keeping the house clean now that my mom is gone. BUT I am not complaining..I LOVE LOVE our new addition. I just want to be a good mommy and am feeling overwhelmed.
Piper had her 5-day check up and she is doing good. She needs to be under lights for 4-days to get rid of her Jaundice- but they have lights we have set up at home. We just have to watch her lots so she doesn't pull the eye wear off like she likes to. Craig slept by her crib for 2-nights now so he can check on her every 1/2 hour. What good daddy!
Sorry such a long post...I just want to remember this time in our family. It has been so wonderful having this special little spirit in our home. THANKS everyone for being so wonderful and for people's help through it all :)