I know I am a little late in posting these, but I want to remember this stuff and plus I think some of the pictures are pretty funny. Like I said before...
I LOVE HALLOWEEN :)
Halloween day we carved Pumpkins...My kids LOVE LOVE doing it. Except the gutting part...and we made Mckay gut some of his pumpkin...while we laughed at him! And man HE DIDNT LIKE IT! What nice parents we are huh? :)
Ky didn't much like it either, but she was more ok with it that Mckay.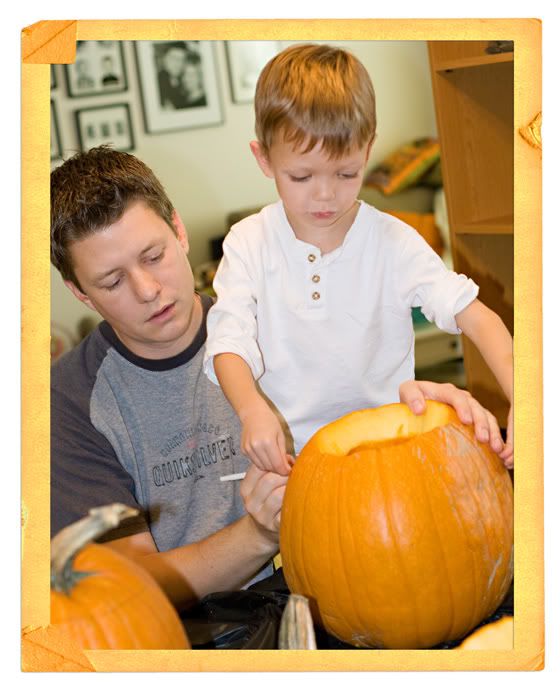 His favorite part was actually carving the pumpkin with his daddy. After Craig finished gutting it of course :) He told him exactly how he wanted it to look and made Craig draw it first.
Look how cute they all are :) My kids were so proud of their pumpkins.
Ok- funny story...or
NOT
so funny story about this picture. We went in the garage so it would be dark to see what our pumpkins looked like all lit up. Weelllll I told Craig to come out and look and he pulled the garage door closed after himself, and we have a door that you can open from the inside but is actaully locked from the outside. so,
WE WERE LOCKED OUT OF OUR HOUSE!
And, of course I am half naked from feeding Piper with no Bra on and
PIPER IS LOCKED IN THE HOUSE.
We had made a spare key about 2 weeks earlier which we found out didn't work. After about 2-minutes of being out there Piper starts crying. Craig goes over to the neighbor to borrow their phone so he can call a locksmith and I am hiding in the garage cause I have barely any clothes on. The neighbors try to come and pop or sliding back door off with no luck, while I am trying to help (they probably think I am white trash now becuase of how I looked). Well, the locksmith says he is going to be an hour. I am crying and freaking out cause Piper is now in there
SCREAMING!
So the locksmith trys to tell Craig how to break in with e credit card...which
NEVER
works. But, we both said a prayer and it
ACTUALLY WORKED!
Poor little Piper's lip was quivering she had been crying so hard for about 20 minutes. But, I am so grateful that it worked and we were able to get in there to her...plus not have to pay the locksmith $80. But, at least we got to see out pumpkins all lit up right? hehe.