Woooh...I am still alive over here! haha. It has been a while since I have posted because i have been sooooo sick. But, with lots of antibiotics and sleep, I am finally on the mend. I thought I would show you some projects I have been working on around the house. Since joining
pintrest
, I have decided I need to post more of my projects because I always appreciate all those who post on their blogs and share their wonderful ideas with me. So here are a few of mine....it might not be everyones taste, but it's what I am liking for the moment :)
THE PLAYROOM MAKEOVER: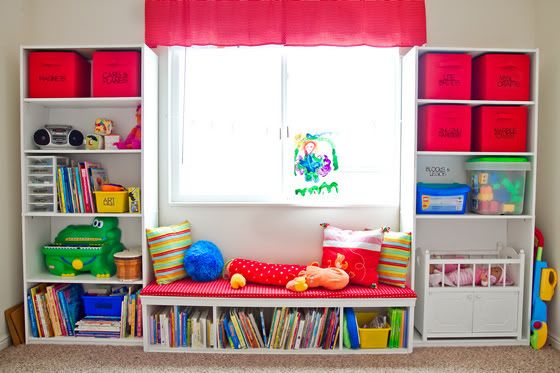 I was desperately trying to find someway to organize the playroom better. I found this bench at the DI for $20, painted it white, then I got a small board to fit the top of the bench from the Home Depot
*they even cut it to the right dimensions for me*
I got some foam from Joane's (with a 40% off coupon) and put it on top pf the board. Then I wrapped the fabric around the board and foam and staple gunned it to the under side. . I think that's a super easy way to reupholster a bench and now it is so comfy with the foam! I made the pillows and then labeled all the bins (got them from walmart for $5) with my vinyl machine, which makes it so much easier to keep clean now. I got the tall white book shelves from walmart too and now it looks pretty close to a built in window bench :)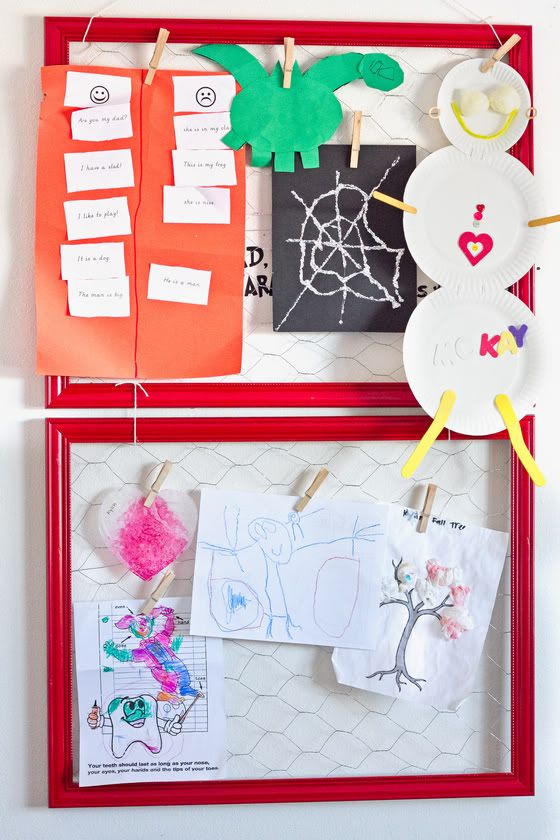 The kids bring home so many cute things from school and I was trying to think of a way to display LOTS of their art. I saw the idea of chicken wire once and decided to get some HUGE frames (each 24x30 inches) from the DI for $5 and then spray painted them red. I bought some chicken wire from my local Cal Ranch store and then staple gunned the chicken wire to the back of the frame..can you tell I love me staple gun. hehe. Then I attached the two frames together with some twine. Now they each have a frame to display their art by using clothes pins. I think it is so cute!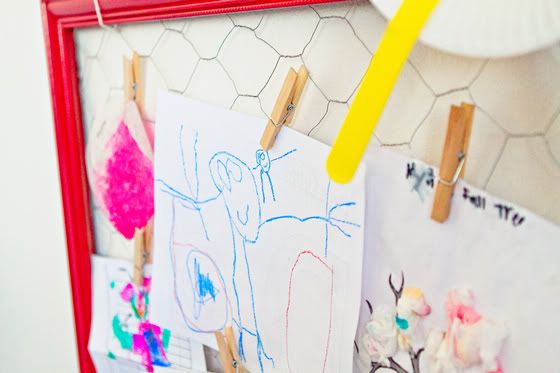 The kids love to color at home too. I saw a really cute metal line you can buy from Ikea to diplay art, but it is $30. I don't have money to spend on something like that. So, I got some twine and ran it across the window and attached it to the wall with a nail and pulled it super tight. Now the kids can attach their new pictures that are drying or their favorites with some clothes pins.
OFFICE PROJECTS:
I always have to be super organized. SO, I got some bulliton board squares from Walmart for $6 bucks I think. Then I cut them in half with an exacto knife, and wrapped them like a present with some cute fabric. I used masking tape to keep the fabric in place. I printed up Monday-Sunday tages and Now I have a rectangle for every day of the week to hang things i need, put reminders, tickets, or anything else I want. I am really loving it.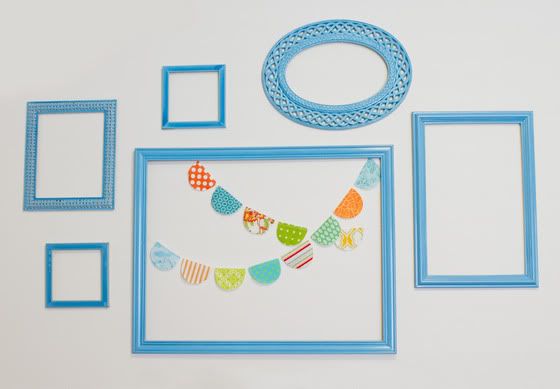 This is also in my office. I was bored with my wall, so I bought a bunch of cheap frames from the DI and sprayed them blue. Then I made this bunting line out of some fabric scraps from my board. I think it's fun and it makes me happy.
KIDS HOMEWORK CENTER: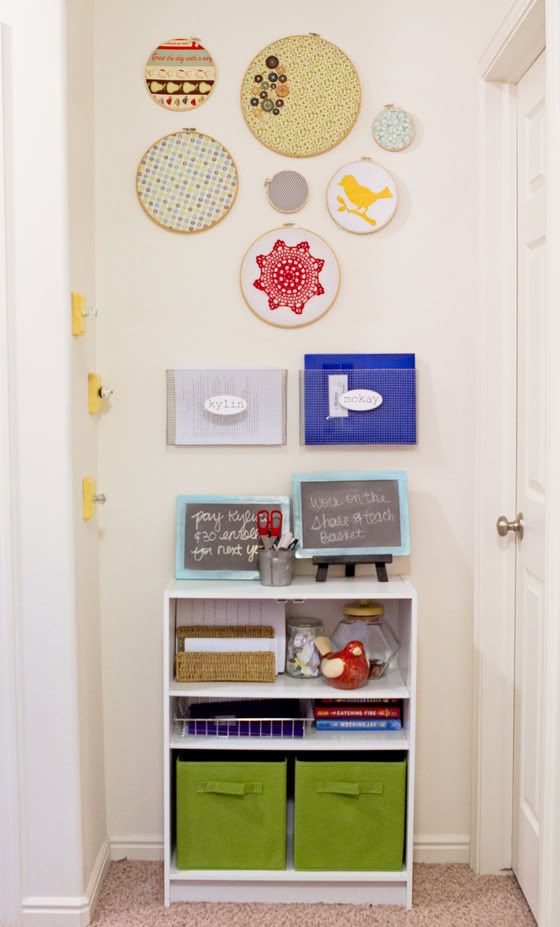 The end of the hallway by the kids room was just a dead zone, so I decided to make it useful. The kids always dump their bags and homework and I have a hard time finding it all. Soooo, here is a spot for them to hang their back packs, put their home work and keep everything "school" organized. Their is a chalk board for each of them for me to write reminders for them. It also has their piggy jar they are saving for Disneyland and "the fun jar".
I found some cute vintage fabric that I loved and got some embroidery hoops from the DI. I got an old doily and glued it to one, stitched cute buttons to another and cross stitched that yellow bird. I am loving vintage stuff right now.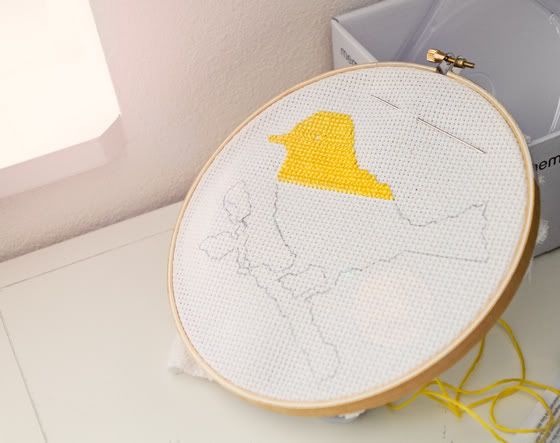 The bird took forever! I haven't cross stitched since I was like 9 and forgot how long those silly things take. I did it every night while watching Tv with Craig. I love that it is a modern take on cross stitching. If you want a pattern, I got it from Martha Stewart
HERE
.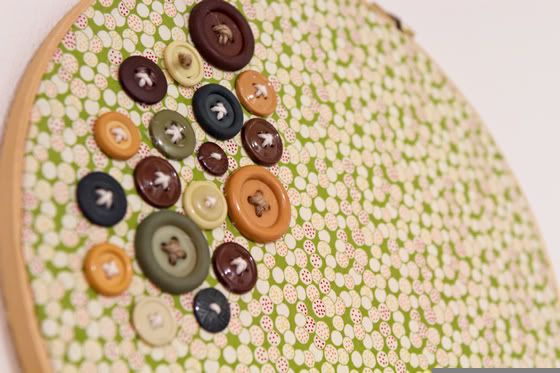 I made these cool bins to keep the kids folders and homework in. I got the wire netting from Cal Ranch too. I saw some of these in a pottery barn magazine that I loved, but they are like $50 a piece. So, I made some :) The tutorial is
HERE
. I made my measurements a little thinner so that it wouldn't stick out so far.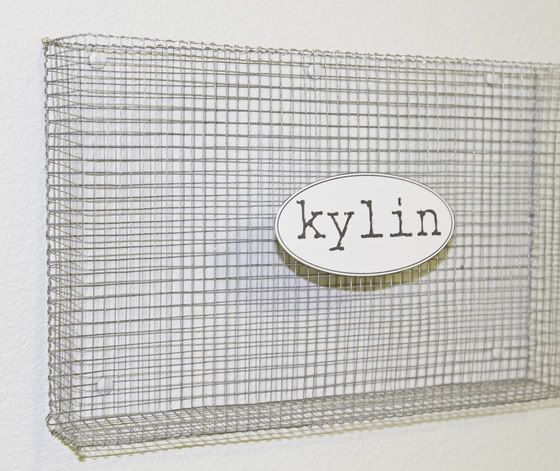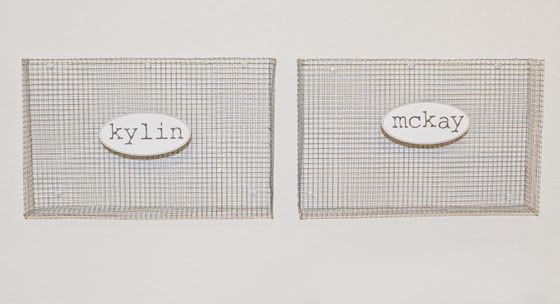 I got 3 cute knobs from Hobby Lobby and these wooded squares. I painted the squares yellow and then screwed them into the wall for the kids to hang their bags on.