We are back from our trip...not that I am super excited about it. haha. California was SO amazing, it was warm and sunny everyday! Hard to come back to cold Utah. I am so glad I was able to spend time with my family and although it is hard with kids, it was a blast. I am going to do several posts over the next few days. Here is....
Day #1:
Our car broke down coming out of the drive way, it started twitching uncontrollably and I thought for sure we were going to have to cancel our trip and I desperately wanted to go, so I started to cry. But, I got it together and we all said a prayer. Then Craig took the car over to Auto Zone and they ran a test to find out that one of our plugs had come loose and was mis-firing. So, thankfully he was able to fix it for no money. It was wonderful to be able to have that teaching moment for my kids
*and me*
and help grow their little testimonies and know that prayers are answered.
So we were on our way....so I thought. Pip started puking and we had to keep stopping to clean her up, so she was naked and the windows were all rolled down trying to air out the car. Then Kylin started barfing....3 more stops and then she was sitting naked with a barf bag up to her face. After what seemed like forever, we finally got to Vegas and checked into our hotel. We didn't do the strip this year because we decided Mckay is getting too old to see that kind of stuff. So I didn't get the cool pictures I wanted, but it is better to not have to cover his eyes every 5 seconds :) The girls puked that whole night, but the next morning seemed to be doing fine, so we went swimming at a WAY nice pool and had a great time!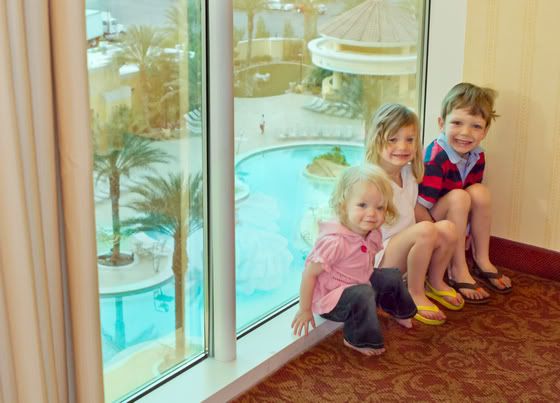 This is the view from our room, there were 3 different heated pools to swim in. After swimming we went to a huge buffet breakfast. The kids thought it was so much fun to be able to choose from so many different foods. Then we headed on to Cali....
We had only just pulled out of the hotel when the car started convulsing again! We thought maybe the plug had come out AGAIN, but after Craig tried to fix it, it still wasn't working. We found the nearest car parts place (we didn't want to take it to a shop because we didn't have the money to have someone else fix it) problem is we don't know squat about cars! But, some nice guy helped us and we discovered that the plug was completely burned through now. Before we left on this trip, we had the plugs all replaced and spent $500 getting a tune-up. Come to find out that they had not covered the wires properly and had set them right on top of the engine block. SOOOO MAD! Anyways, to make a long story short, 2-hours later we have a new plug on and it only cost us $10 but it was really tricky getting it off and back on again. Wheew! So, on to Cali again.
I did some research online and found this BEAUTIFUL beach I wanted to visit. We wanted to do some different stuff this trip that we had never done before. I am so glad we did because El Matador beach in Malibu is probably the prettiest place I've ever been. I wish I had more time to take pictures, but since the car took so long to fix, we got there just as the sun was setting. It was so relaxing to play on the beach and have it practically to ourself. I wish my pictures did justice to how incredibly beautiful it was.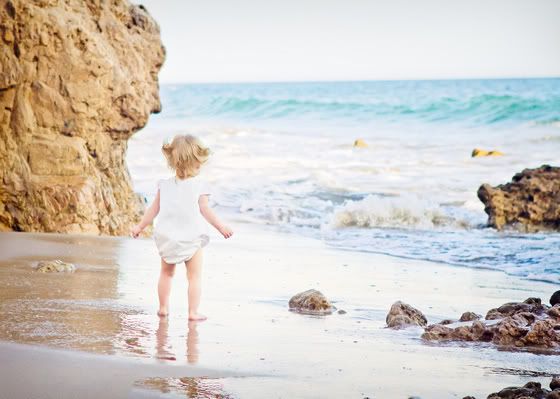 Do you remember when I said "We had the whole beach
practically
to ourselves"? Well, "practically" being the key word because just behind that huge rock around the corner there was a nude photo shoot going on! So glad the kids didn't discover it...just Craig. haha. Poor thing. Don't you just feel so bad for him?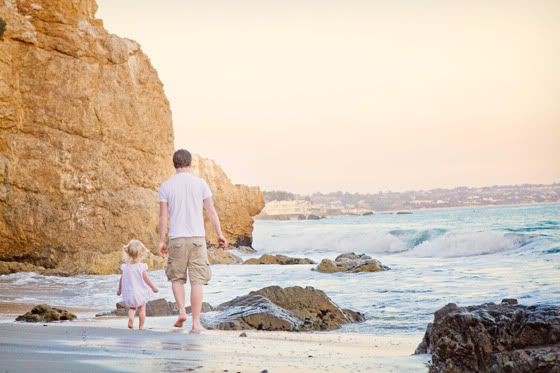 Right after that picture of Pip walking with her daddy a huge wave came and knocked her down and she was soaked. So I only had about 5 minutes when the sun actually set to get some pictures because we had to get her back to the car and dried off. Darn. Oh well, they would have been better if I had gotten to stay longer...but still I hope you can tell how beautiful it was.