hehe. The story of this post is- I was checking my email and a couple blogs and usually I have the kids in the playroom with me while I am doing this, but they were wandering around the house I thought. Then after about 15-minutes of being on the computer I totally realize that it is WAY TOO QUIET. So, I run out to the living room looking for my kids and Mckay is on the couch looking like this:
No- he isnt watching "Little Einsteins" or "Super Why" he is watching the Food Network! Watching Bobby Flay grill something up, and he is TOTALLY engrossed in it.
This isn't the first time he has sat and watched the food network, he will sit and watch ENTIRE shows with me.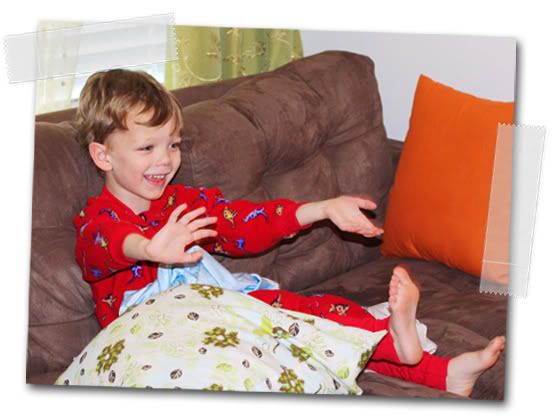 He starts laughing as soon as I discovered him and start laughing at him. At least I got one picture of him totally entranced.
He is gonna be my little chef someday because he always says, "Mom I really want to make that tonight" or "mmmmm that looks so tasty!" He could probably watch it all day and never get bored... that boy seriously cracks me up.
ps. I wasn't so lucky with Ky- she was in our bedroom and had found Craig's Toblerone bar and had eaten HALF of it! She was covered in chocolate....I should have taken a picture of that too. :)