Random title I know :) But, I have not really been in the mood to blog lately...just been SO tired and busy trying to get my house unpacked and get everything ready before a certain someone arrives. That is
IF
she ever decides to come out! I am 37 1/2 weeks now
which is considered full-term
and
dilated to a 5 and 95% thinned out!
And let me tell you it is not fun to sit at home and dilate for weeks with these REALLY painful contractions. Ever since I got a TB shot to stop my labor a few weeks ago, I can't go into full-blown labor now. Don't get me wrong- I am SO GRATEFUL that she has been in here and didn't come early like my other kids, but it has just been a pretty difficult month and i'm in a lot of pain....so, I hope she decides to come out soon :)
If any of you have labor inducing tricks...PLEASE SHARE!
Except you Megan...hehe. I can't believe you went past your due date, I have a new found respect for you :)
------------------------------------------------------------------------
Ok- so on with my post...I have been trying to spend lots of time with my kids before Piper gets here, so we decided to make some She-Ra & He-Man swords yesterday because they LOVE that show...
so did I when I was a kid.
And yes- I know we are super ghetto and the swords look crazy funny. But, the kids LOVE them and it was something fun and different to do.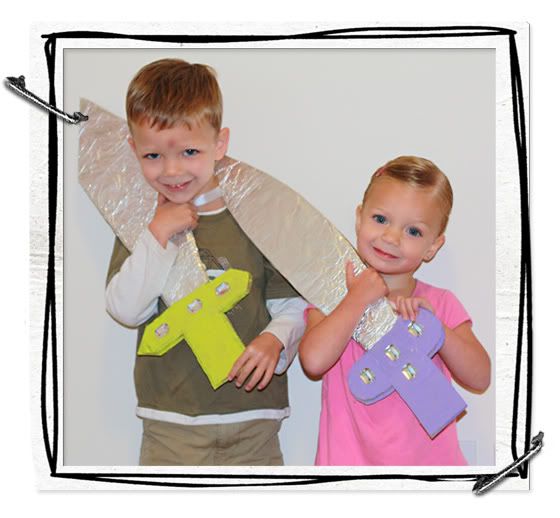 Funny lookin' swords:) But see how much they love them. Look at the big bruise on Mckay's forehead...he got it from
in his own words,
"running into the most beautiful girl in the world that I love". I think he has found his first crush in preschool :)
We will see how long they last with all the fighting that is going to be happening. They are only double layered cardboard, tin foil and shiny jewels :)
And of course we had to make them sword holders just like in the show so they can carry them around on their backs.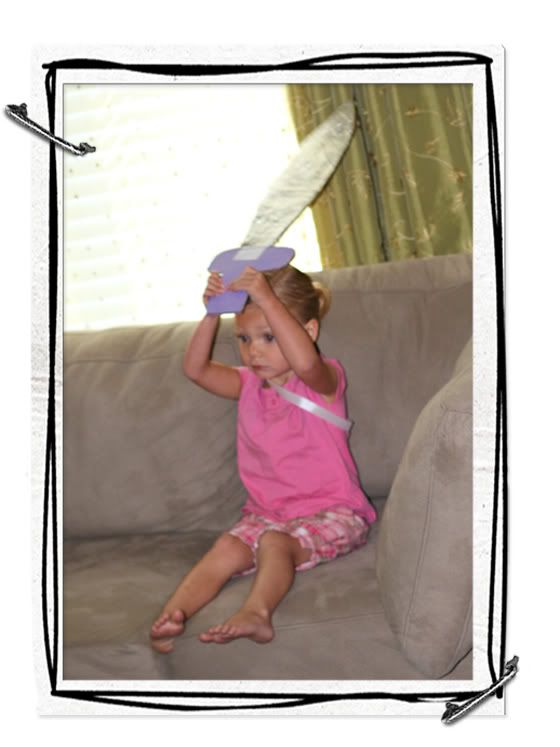 This is Kylin with her sword watching She-Ra...All day I have heard "I AM SHE-RA" and "I HAVE THE POWER!"
-------------------------------------------------------------------------
Also- I thought I would share something made recently. We are big readers in this house...at least when we have time and we loan out a lot of our books to family & friends. So, I decided to make these labels to put on the insides of all our books so that they hopefully will get back to us after we loan them out.
There is a Microsoft word file you can DL, which you can just print out on labels (Avery 8163) that you can get from any store OR you can just DL the JPEG file and print them on normal paper, cut them out and glue or tape them on the inside of the book yourself. Maybe some of you are book loaners too and could use them :) Here are the download links:
----------------------------------------------------------------
Lastly here is an AWESOME recipe from my mother in law that I LOVE and we had for breakfast!!!

So, I am sharing I hope she doesn't care :)