Since I have been so busy with my Etsy business, I decided that I needed a proper work space to keep track of my orders and be organized. So- I bought this desk on ksl (which my dad had to drive all the way to Murray for...THANKS DAD) and it was a yucky brown color, so I painted it white. Which took about 3 coats...FOREVER :) But totally worth it because I love how it turned out. I love things that are white. So now, my space is bright and happy and I love being in it now AND best of all it is super functional!
Of course I did this all on a tight budget :) Thought I would share where I got stuff and how to di stuff for cheap in case any of you need some remodeling ideas. The desk/book shelf was the desk I got from KSL for only $100. To buy one new would have been AT LEAST $700. The white shelf and tiny 6 drawers cabinet was Ikea. The lights on top of the bookshelf were also Ikea. I made the fluffy pillow for my chair :) Also made the cute hanging crepe paper lanterns for a pop of color. THANKS Kim for telling me how to make them ! If anyone wants to know...just leave me a comment and I will share.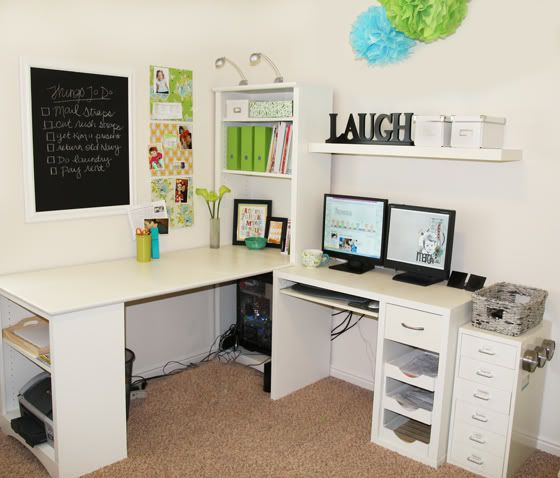 Here is a view without the chair in the way...I need a cord organizer :)
For the chalkboard I bought a cheesy picture from the DI with no glass on it and painted it with chalkboard paint...works SO GREAT and I didn't even have to paint the frame only $4. The large clothes pin, green pencil holder, cute flowers and my cute hot coco mug are all from Hobby Lobby. Oh and the "laugh" sign. Love that store :)
I made the bulliton boards from little bulliton squares that I got from walmart and covered them in Heather Bailey's new "Nicey Jane" fabric line. So happy and springy.
My favorite thing....tropical skittles and mike and Ikes :) gotta have treats while you're working!
I got the pictures from Etsy and the 3 shelf organizer from the DI and painted it white and then I lined it with scrapbook paper to make it cute and colorful. It fits just PERFECT in my desk.